Review: United We Spy by Ally Carter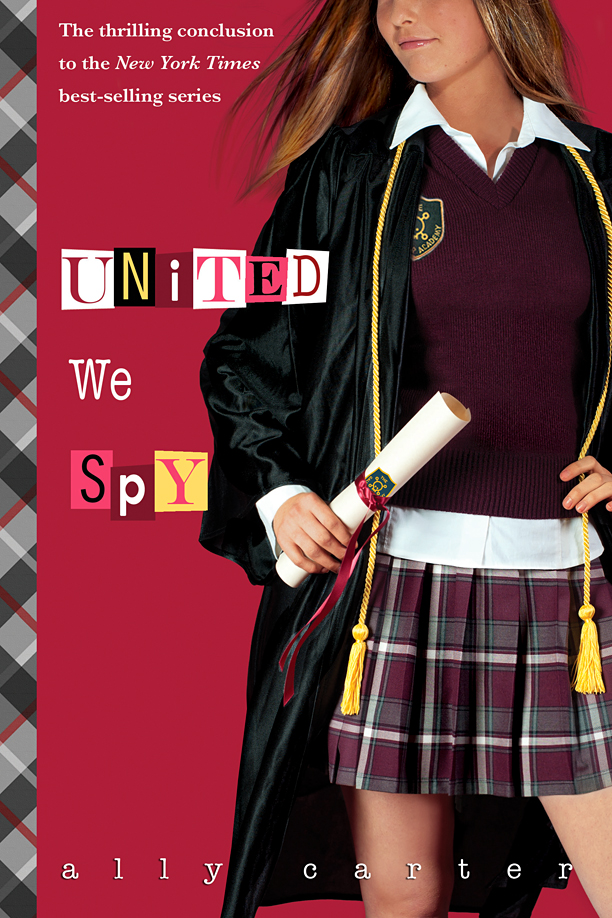 Publication Date: September 23, 2014
Synopsis:
Cammie has been through the worst year of her life and come out alive. She and her friends are finally beginning to piece together what the Circle is planning, but they might not have the means to stop them.
Putting their collective years of spy training into a desperate team, Cammie and her friends set out to stop the Circle before their worst nightmare can begin.
Thoughts:
It has been years since I last picked up a book from this series. I started this series when the first 3 books were out, and have slowly made my way through it. Approximately 6 years later, I've come to the end of this series.
I knew that the best way for me to read this would have been to re-read the first 5 books, but I didn't have the time or capacity to do that when I had set a summer TBR of 22 books for myself. So, I chose to pick this up without re-reading the previous books and hoped that I still remembered enough to understand what was going on.
Luckily for me, I had very few problems diving back into this world. There were only 2 characters that I didn't remember, but other than that, I found it super easy to pick up where I had left off. I didn't feel like I missed anything since reading the 5th book, which was great. I also realized how much I missed this series. This is one of my favorite series because it was really instrumental in my return to being an avid reader. I've read and re-read the first 3 books more than 3 times now, and I've loved each re-read.
The way this book moved toward wrapping up the series made me really happy. I was getting to see the action that I felt the 5th book lacked, and I was getting to see what the endgame would be. The way action was utilized made me love every single moment of reading, and also made me consider how I paced action in my own writing. Whenever I learn something like that while reading, I consider it to be a really valuable lesson.
The romance was just as sweet as I remembered, and even now, I love them together. I like that Ally Carter was realistic in the sense that she knew her characters didn't have a guarantee of being able to see each other whenever they wanted because of their lives as spies, but I think she used that to her advantage and made the times together count.
I was so engrossed in this book and finished it in about a day. The happy memories it brought of the first time I met these characters made me nostalgic to know that this was the end of the series. When I finally got to the end and closed the book, I wasn't ready to say goodbye to the characters. I wanted to know what they moved on to, and I wanted to see more of them in their lives after high school. There is a part of me that wishes Ally Carter would pick this series back up, or write a spin-off series about the characters' lives after high school. I just want to spend more time with them.
Character(s):
I've always loved Cammie as a main character. While she can be slightly annoying sometimes, I think it's understandable. She doesn't live a normal life, and with everything she's been through, I can't expect her not to have her annoying moments. But what I love most is seeing how she's grown as a character over the course of the series. The person she was at the end of the book made me smile so much, because it was who I imagined she would be.
Bex is a character I always want to see more of. Being Cammie's best friend, they balance each other out really well, and Bex is always fun to be around. The friendship she has with Cammie is so strong and supportive that I can't imagine them not being in each other's future. Bex is strong, sassy, and always ready to do what has to be done. She also brings a lightness to the books that keeps a spark of hope for the other characters.
I enjoy reading about Liz because of her adorable personality and love of studying. If there's anyone I want with me on a trivia show, it would probably be her. Her brains and her ability to devise plans at a moment's notice make her a valuable asset to the team, and her incredibly supportive nature makes her a great friend as well.
Apparently, I've always been slightly annoyed with Macey, and that hasn't changed. Being the rookie of the friend group, it's easy to see why she can be annoying. But what I think is most annoying is her sudden romance in the 5th and 6th book, which felt out of place to me. The way she handles her feelings and her lack of planning before she acts always ends up frustrating me, though I do like her when her head is on right. However, I did really like where her character ended up by the end of the book.
I love Zach. We're just going to leave it at that. Always have, always will.
Overall:
5 stars. I could not have asked for a better conclusion to this series, and I enjoyed every moment of this last book.