Review: Miss Peregrine's Home for Peculiar Children by Ransom Riggs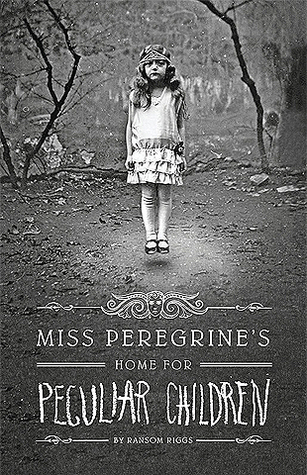 Publication Date: June 7, 2011
Synopsis:
Jacob Portman lived a fairly normal life until a terrible tragedy struck his family. Nothing was the same after that.
Then a strange feeling leads him to venture to a small island in Wales for answer that might not exist to questions he doesn't really know he has. He finds Miss Peregrine's Home for Peculiar Children, but it's been empty for years. Yet somehow, the children who lived there might still be alive after decades of everyone believing in their death.
Thoughts:
I finally decided to jump on the bandwagon with this series and it's been awhile since I bought the boxset and told myself that I would read it. I had meant to read it before going to college, but that didn't end up happening.
Part of me is really glad I waited because I've been able to really devote time to it during summer break, and I wouldn't have had that time last year as I was getting ready to move halfway around the world and start college. I finished the book in about two sittings and enjoyed every moment of being in this world.
I had heard bits and pieces of the story before, but not enough that I had been spoiled. Which made the entire journey really interesting as I saw how everything was starting to play out. The way the pictures were incorporated with the story and how it all fit together to create a world that I never imagined before made for a really engaging and captivating reading experience.
The only thing that bothered me was the insta-love in the book. It happened without reason and felt really weird to me because of the situation at hand. It felt like there was very little reason for their attraction, and I'm not sure I really like them being together.
Ransom Riggs does an excellent job with his descriptions and his ability to create vivid imagery. Even though there are pictures, I see those as suggestions for the setting and it's not necessarily what I see in my head. Some of the characters are what their pictures show, but the rest of what the book describes is entirely different from the pictures. And I think it's really amazing how he managed to create vivid images that go so well with the pictures in the book, but are also able to stand on their own perfectly.
The last few chapters of the book really had me gripped, and I raced to finish it so I could bring Hollow City with me when I left my house for my commute to church. I needed to know what happened and I had to bring the sequel with me so that I could continue on with the story without waiting. I feel bad for the people who had to wait in between books to find out what would happen, and I'm glad I have all three to binge-read at once.
Character(s):
I liked Jacob as the main character. He was a strong protagonist and it was easy to see how everything pieces together through his narration. I like that it was all in first-person present-tense as well, just because it works perfectly with the story and how it progresses. I didn't have any annoyances with him, but I found his romance to be weird and slightly uncomfortable.
Overall:
5 stars. I'm already reading Hollow City as I type this review, and by the time this goes up, I'll hopefully be done with the trilogy. I love this trilogy and it has quickly taken its place among my favorites. I definitely think you should pick this up if you've ever been interested in it.