Monthly Look-Back ~ January 2022
How are we already done with the first month of 2022? I feel like I blinked and everything disappeared. It really doesn't feel like a month has passed, and I'm not quite sure how to deal with that.
Living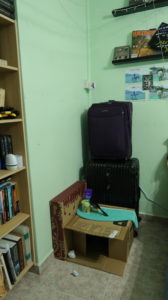 For all my ambition with the goals I had for the year, I don't think I really got off to the best start. The things I did manage to achieve were getting into a better morning routine and waking up at an earlier time. Despite the fact that I'm not and never will be a morning person, I've convinced myself that waking up at 7:30 is a good thing. This is partly to make sure I have time for devotions and getting distracted by my cat, and also to provide enough time on hair washing days. One day, I will get faster at my wavy hair routine, but that day has not come yet.
IKEA stressed me out to no end with its ever-changing stock. Since I wanted matching furniture, our landlady has removed the furniture I don't want anymore. Unfortunately, my bad planning and continued supply chain issues have left me without a dresser or a mirror. For the past two-ish weeks, I've been living out of a duffle bag and a box of toiletries. Not the most convenient thing and it hasn't been the best for my mood either.
I've had to consider several different options in an effort to find matching furniture. In the end, I decided to stick with my original color choices and settle for making two separate trips/purchases. It means I won't have dressers for another 4-6 weeks, but in the meantime, I can paint my walls and move the furniture around. As much as I'm looking forward to having white walls, I'm also dreading the move of all my books so I can get to the nook that the bookshelves sit in.
And yes, I'm still unemployed and looking for a job.
Reading
Number of books: 4
Number of hours read: 11 hours & 37 minutes
Number of pages read: 1,192
#1 of the month - ExtraOrdinary by V.E. Schwab; illustrated by Enid Balám
Fantasy ~ Hardcover
What better way to start the year than with a graphic novel from my favorite author? I pre-ordered this special edition last October and saved it for this year. It was a quick read and a fun middle between the two published books in the Villains trilogy. Certain character designs weren't my favorite, but I had a good time reading.
#2 of the month - Vicious by V.E. Schwab
Fantasy ~ Hardcover
Following the graphic novel, I wanted to re-read this and continue the happiness of reading Schwab's work. It's my third time with this book, I'm still in love with Victor Vale, and I got to do something cool after my re-read. Can't quite talk about it yet, but I'll link to it when it's available.
#3 of the month - Survive the Night by Riley Sager
Mystery ~ E-book
Everyone has been complaining about this book so much since it was released last year, so I had to read it for myself. Thankfully, I did a buddy read with my friend Ukamushu, which allowed us to send ranty messages back and forth while we read. My brain deserves an apology after I put it through this book.
#4 of the month - Shopaholic to the Rescue by Sophie Kinsella
Contemporary ~ Paperback
I really just wanted to get this series over with because this is the last book. Last year, I realized that this series has contributed to my guilt around spending money, and I also realized how immature and irresponsible Becky Bloomwood is. I have no idea how I enjoyed these books when I was younger, but everyone frustrated me to no end in this book. The only person who deserves anything good is Luke.
A cool thing that happened was that I got an ARC (Advance Reader Copy) of one of my most anticipated books of the year - Portrait of a Thief by Grace D. Li. It's the first ARC I've ever requested from the publisher, and with some help from a friend (thanks Dawn), I'm able to dive into this book before it comes out in April.
In addition to the books, I caught up with a bunch of WebToons that I had fallen behind on since moving back to Singapore. Some of them I hadn't touched in almost a year because I was too busy stressing about employment. I finished Siren's Lament and Age Matters, caught up on Midnight Poppy Land and Let's Play, then started Death: Rescheduled, Tori and Samuel, The RUNWAY, Eaternal Nocturnal, and Dr. Hound. I've also started re-reading I Love Yoo because I've forgotten so much of the plot and characters since last year.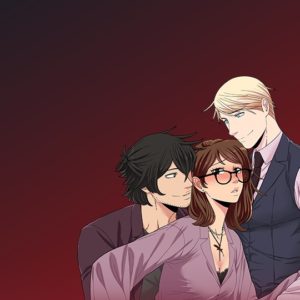 Writing
Blog words written: 1,154
Novel words written: 0
Confession time, I didn't set up my writing tracker in time (still haven't) so my numbers are from what Scrivner tells me in my writing history.
Most of these works are bits and pieces of different blog posts I've drafted or edited. Nothing has been completed except for the second half of my review of Know My Name by Chanel Miller. My word count for the month isn't as high as I wanted it to be, but that comes down to a discipline thing. I'll do better in February.
Watching
YouTube: I'm sad to announce that my Watch Later list hasn't gotten any smaller. I've gone through some of them but not enough to really make a substantial dent.
The desire to re-do my room has caused me to live vicariously through people on YouTube who have done room and desk makeovers. I've watched probably 50 videos on this to get ideas for what I want to do, as well as see how other people make use of the same furniture I plan to get.
I also went through the entire Unhinged Pretty Little Liars recap series that left me wondering how I ever enjoyed or understood the show. It was a good 6 hours spent though, and I'd re-watch the recaps again for further entertainment.
When I wasn't watching that, I was going through Theorist videos like no other. I was keeping up with the daily GTLive playthroughs of Five Nights at Freddy's: Security Breach as the series came to an end early in January. It's not so much that I like or have ever played the franchise, I mostly just enjoy hearing Mat dissect and discuss the game. In between those uploads, I subscribed to Film Theorists and Food Theorists, rounding out all four channels. Then I dove into a backlog of their videos that interested me. I think my fascination with these channels over the last three months is largely due to how fun Mat makes everything. I've learned a lot through these videos and it satisfies the part of my brain that enjoys learning new things.
Movies: The only movie I remember watching is Ip Man 4, and that's only because I just saw it the other night with my parents and my cousin. It's not my favorite of the franchise, but I do enjoy a good KungFu movie as it brings me back to my childhood.
Again, it's probably good for me to keep a running list of everything I see so I can avoid moments like this in my monthly recaps. If I did watch anything, it was too insignificant to really remember.
Shows: My TV watching has been largely interrupted by my YouTube binges. I got through a couple more episodes of my Sex Education Season 3 rewatch, finished half a season of Attack on Titan with my dad, finished all the currently available episodes of Manifest that were on Netflix, and then poked plot holes in the k-dramas my parents watched. I'm great at finding the plot holes and inconsistencies in k-dramas.
Listening
Podcasts: I've mostly been listening to My Favorite Murder, trying to catch up with the big backlog I created when I was doing my re-listen to My Dad Wrote A Porno. I've got about a year's worth of episodes to get through before I'm on track again.
Occasional episodes that I've put on are Bad on Paper and Sounds Like A Cult. After reading Cultish last year, I loved any reason to listen to its author, Amanda Montell, tell me what groups in society could contain elements of being a cult.
My deep dive into Theorist content has left me wanting to catch up on a lot of stuff I've missed over the last decade. The first episode of A Conversation With… that I listened to was with Mat, where he talked about what it's like to run channels for so long and how he grew into his career. Plus, I got to hear about how he and his wife met, which was really adorable. The other episode that I've started is with Jacksepticeye, whom I've also been following for a little over a year now.
Lastly, my friends Maggie and Rachel started a book podcast - I'm Not The Book Expert…But She Is! I've only listened to the first episode so far, but I'm looking forward to catching up with the rest. Am I biased because they're my friends? Totally, but you should listen to it anyway if you like books.
Music: Surprisingly, I haven't been into much music lately. Perhaps because I've been watching so many GTLive and Theorist videos, I haven't really chosen to put on music. Which means I'm not off to a great start for my goal of becoming part of the 0.05% of Taylor Swift listeners. But there's plenty of time over the next 9.5 months to catch up.
Posting
YouTube: I haven't posted anything, though I have filmed a video. This isn't really a priority for me anymore and I would rather keep it as one of those side things where I make a video whenever I feel like it, rather than trying to force weekly or even monthly content.
Blog: Three blogs posts was not the plan. I wanted to post more, but my procrastination has reached a whole new level as I write a few lines here and there in different blog posts, none of which are ready to go up.
I do plan on getting better at this though. 80% of a plan exists to help keep me get more posts out on a scheduled basis. Without having to think about videos, this is a bit better. And I think blogging about some things will be helpful for me as I accumulate ideas that have become little sentences here and there.
IG: A Reel I posted at the beginning of the month that did surprisingly well in the first few days. Even more surprisingly, it continued to do well and has become my most successful Reel thus far, with 17K plays. Having that confidence boost at the beginning of January has helped me think a little less negatively about Reels, though I still think it's dumb that they're so crucial to the success of a small account now.
My content has been on such a weird rollercoaster lately. My photos have been tanking even more than usual, but my Reels are doing decently. I'm more than a little confused by all this and wondering sometimes if I should try a totally different theme, take another break for a bit, or stop posting altogether. The numbers get to my head a lot, even when I try not to let it. But I'm trying to make changes and figure out what I need to do to get more visibility.
It's nice to be back to this. I'm going to aim to keep up with this because I like thinking back on my month and having something that reminds me of things that happened. Even while writing this, I looked back on some previous posts to remember formatting and what I wrote about previously.
Besides, what better place for me to ramble about things?