Review: Vicious by V.E. Schwab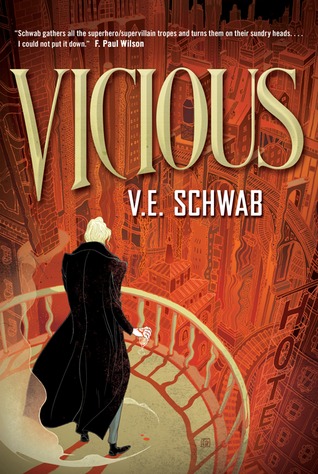 Publication Date: September 24, 2013
Synopsis:
College friends and roommates, Victor and Eli, are working on an experiment together. With the right tests and results, they could unlock a power greater than either of them ever imagined. Then something goes wrong.
Ten years later, Victor wants revenge on Eli for what happened. In the middle of his quest to find his old friend, Victor stumbles across a young girl who needs him, maybe as much as he needs her. Meanwhile, Eli is on a mission of his own, to write a narrative that only he can control.
Rating:

★ ★ ★ ★ ★
Date Read:
Aug 13, 2017
Thoughts:
This is the first V.E. Schwab book I've ever read, and I intentionally started with this because I knew it would be awhile before the sequel comes out (in case you didn't know, Vengeful is currently slated for Nov 5, 2018). This was the first book of hers that I heard Regan from PeruseProject raving about years ago, and I've been interested in it ever since I first heard about it. Finally, some time at the end of 2016, I got a copy of the book. It took me until summer of 2017 to read it, but I loved every minute of the book.
The beginning took a little while for me to get into, especially with the set-up of the book and getting to know the basis of the experiment that's being conducted. It's not that it's hard to understand, but there's some terms in there that I had to pay careful attention to so that I could fully grasp the reasoning. That part makes the book a little more sci-fi, but I feel most comfortable calling this an urban-fantasy-sci-fi mix.
Once I grasped the set-up, I flew through the rest of the book pretty quickly. I was dog-sitting for some friends at this time, so really, I had plenty of time to read in between walking and playing with dogs. The pacing of this book kept me hooked and left me feeling like I couldn't be away from the story for too long. I understood why so many people loved V.E. Schwab's writing style - she has the amazing ability of keeping you engaged no matter what she's doing.
Now, for a brief interlude, in case you're part of the group of people wondering why V.E. Schwab and Victoria Schwab are used interchangeably, there is a difference. Victoria Schwab is the name she uses for her YA books, and V.E. Schwab is the name she uses for her adult books. It's just a way of separating the age groups. It's still the same writer, just under two different variations of her name.
There is a level of skill in Schwab's writing that you begin to realize as you read her work. Not only is she able to tell you a great story, she can do it while building beautifully complex characters and worlds. Many people have praised her for how wonderfully she creates her worlds, and I have to agree. Along with that, Schwab writes characters that are so relatable, you know that some part of you is rooting for them, even if you're not exactly supposed to.
I think I flew through the last part of the book pretty quickly, especially after I tried staying up until 2AM to finish the book. I had to keep reading to find out how everything was going to end, and honestly, that's one of my favorite things that a book can make me do. The end left me feeling so satisfied, but also wanting so much more because I knew that there was more to the world that Schwab could expand on. Once Vengeful is available for pre-order, you can bet that I'll be making sure I have a copy of the book on release day.
I raved so much about this book that my roommate, Maggie, borrowed it during the semester. She loved it too, and we ended up having a lengthy conversation about Schwab's writing. One of the things we noticed was that several of the elements we were learning about in our fiction writing class, we could clear see in the book. It was almost easier to learn from a clear example like Schwab's writing than it was to read authors I had never heard of and had little to no interest in (at least in my case, I can't speak for Maggie). It's one thing to love a book, but it's another to learn from it, and because I was able to learn so much from Schwab's writing, it made the reading experience all the more special to me.
Character(s):
I loved Victor's character. He has all of these reasons why he wants to hurt Eli, but it doesn't stop him from having a heart and still being able to care. One fo the things I enjoyed most about him was that he wasn't a villain or a bad guy, he was just someone who was really hurt. That made him so much more interesting than if he were straight up evil.
Eli, I also really enjoyed reading. He's a little harder to like, but that's just my opinion. I found that the way he thought about things, while understandable and reasonable to an extent, made him feel more like someone who wasn't open to anything aside from his own beliefs. I have a hard enough time getting along with people like that in real life, which is probably why I liked him less than I liked Victor. Still, he continues to intrigue me a lot.
Guys. I'm not gonna talk about any other characters because of spoilers, but there's a fluffy animal. If that doesn't convince you to pick up the book, I don't know what will.
Overall:
5 stars. I highly recommend this book to anyone who had thought about picking it up, likes superpowers, or loves the anti-hero story. It's really worth every moment.