Review: The Wife Between Us by Greer Hendricks and Sarah Pekkanen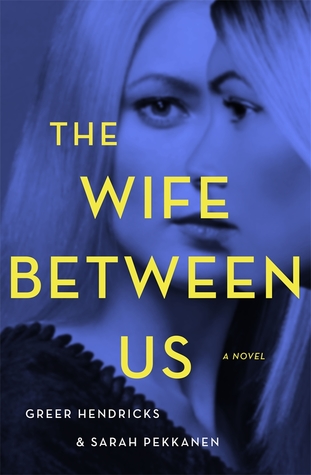 Publication Date: January 9, 2018
Synopsis:
Vanessa has been divorced, is struggling to keep her job and stay sober. When news of her ex-husband's engagement to a new, younger woman reaches her, Vanessa is determined to prevent their wedding. Even if it means stalking his new bride.
Nellie is Richard's young fianceé, excited to get married and be a wife. As her wedding date draws closer, she can't shake the feeling that someone is watching her. Glimpses of another woman prove that Richard's ex-wife is involved somehow. But what does she want with Nellie?
Date Read: March 25, 2019
Rating: ★ ★ ★ ★ ★ ★
Thoughts:
I've heard so many people talk about how good of a book this is, and after watching Lala's video of her reading through all the Goodreads Choice Nominees for Best Mystery/Thriller last year, I knew that this was a book I'd be more interested in reading. It's been in my Audible app for quite awhile now, waiting to be listened to. So when I needed something to get me out of the slump that Artemis put me in, I decided to give this a try.
The beginning of this book felt fine, it wasn't anything special to me. The synopsis on Goodreads tells readers to "assume nothing" and "read between the lines," so I already knew that whatever I was being faced with wasn't going to be exactly right. The alternating POVs made me wonder for a little bit as to which of the women to trust, but I also realized pretty early on that I didn't really care about either of the women. Perhaps it's because I'm not at an age where I'm looking to get married/have experience marriage, because these characters just didn't do it for me.
To be perfectly honest, it's not an uncommon premise for a mystery. I've read other books with similar plotlines and twists, so it was hard for me to be surprised as each thing played out the way I assumed it would. What made me read this book in the first place was Lala's comment that one of her favorite twists took place in this book and made it her favorite book of that particular reading challenge. From what I've seen of the majority of her videos, Lala and I have decently similar reading tastes in terms of mysteries, and neither of us are easily surprised by twists. Knowing that she really enjoyed this book, I was hoping to be stunned by the same plot twist. But when that was revealed, I was more confused than anything else.
Listening to this as an audiobook might not have been the best decision, something I realized in hindsight after hitting the major plot twist. The physical book might have made more of an impact on me, or at least reduced some of the confusion I had when I heard the twist happen. It wasn't necessarily a bad twist, but I wasn't wowed by it either. I kept waiting for it to get better after that, but it didn't feel like the twist raised the stakes or made much of a difference in how I understood the plot to be. I think I was also waiting for another big twist to take place because I wasn't satisfied with what I got.
There's an art to creating unreliable narrators and situations that could easily be twisted, something I've learned as someone who has written two mysteries in the last five years. It's not easy to write a mystery, give red herrings, and end up with a jaw-dropping revelation that leaves everyone stunned. I think it's also not the style of mystery that has been present in recent years. More and more, I've seen books that have some kind of twist in the middle to keep you interested and a twist at the end to solve everything. While that works when it's done right, it also puts more pressure on the author to make sure that the twists play off each other in a convincing manner without revealing too much.
In the case of this book, I think that having two twists fell flat for me. I was confused by the first one, and not in a good way. Once I got over that confusion, I realized that I still didn't care much about the story or the characters involved. Spending time with them wasn't making me feel for them or relate to them any more than I had in the beginning. It was frustrating to see that happen when I wanted so much to be amazed by this book and be taken aback by a big plot twist that I ultimately felt let down by.
There were also subplots that I felt were unnecessary, though I understand what they were supposed to do for the plot. I knew how they were supposed to affect the way I felt about the characters and the plot, but it wasn't done in a way that worked for me. Too much of it felt choppy and unresolved, despite the attempts to wrap up those storylines before the book ended. The subplots didn't feel fleshed out enough after all the hints at it, leaving me feeling unsatisfied and somewhat confused as to how it was supposed to affect my feelings toward the book. I wanted something big and jarring to come from these subplots, and I didn't feel like I got it. Particularly, there was one subplot that I thought was going to have a greater effect on the overall plot, but it didn't. There was so much potential to play with it and make things more interesting, but the authors chose not to do that. In that case, I felt like it was completely unresolved by the time I got to the end of the book.
I wanted more from the ending. I wanted a final revelation to wow me and make me boost the rating. I wanted to feel something amazing for the characters as I got to the end of their journey. But really, I felt nothing. The ending didn't surprise me and I felt let down. For a book that so many people have raved about, I was disappointed.
Character(s):
Vanessa didn't feel like a very compelling main character. I knew that I was supposed to feel something for her, but it was mostly indifference. I've met characters like her before, so it didn't surprise me at all when things fell into place and more about her was revealed. I did like her the most out of all the characters, but it was pretty slim pickings considering the cast of characters I had to work with.
Nellie was innocent and sweet. She was likable and decently interesting, but only in the sense that I wanted to know how she was going to change over the course of the story. For the most part, she seemed like a normal person who was just struggling with situations she didn't understand.
Richard was about as generic as they come. I've read a few other stories that have similar, if not identical husband tropes. I kept waiting for him to get interesting, but he didn't. Had he been more fleshed out, I think he would have made for a more compelling trope. There were also certain elements of his character that felt unresolved at the end and thrown together for a seemingly convenient ending.
Overall:
2.5 stars. Really not the biggest fan of this book, but I might have read too many similar stories for this to have had the desired effect on me.